Job details
Salary
AED2,500 a month
Job Type
Full-time
Role Purpose:
The cashier scan items, ensure that prices are quantities are correct and collects payments. They also assist customers by explaining or recommending products, answering questions, and processing exchanges or refunds.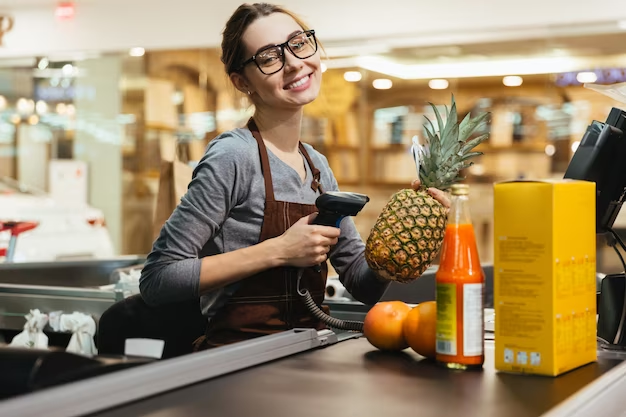 Responsibilities:
Provides a positive customer experience with fair, friendly, and courteous service.
Registers sales on a cash register by scanning items, itemizing, and totaling customers' purchases.
Resolves customer issues and answers questions.
Bags purchases if needed.
Processes return transactions.
Itemizes and totals purchases by recording prices, departments, taxable and nontaxable items; and operating a cash register.
Enters price changes by referring to price sheets and special sale bulletins.
Discounts purchases by redeeming coupons.
Collects payments by accepting cash, check, or charge payments from customers and makes changes for cash customers.
Verifies credit acceptance by reviewing and recording driver's license number; and operating credit card authorization systems.
Balances cash drawer by counting cash at the beginning and end of the work shift.
Provides pricing information by answering questions.
Maintains checkout operations by following policies and procedures and reporting needed changes.
Maintains a safe and clean working environment by complying with procedures, rules, and regulations.
Contributes to team effort by accomplishing related results as needed.
Qualifications:
High School or equivalent
0-1 year of job-related experience in customer service, cash handling, or similar roles.
Ability to handle transactions accurately and responsibly.
Basic math and computer skills.
Ability to stand, walk, lift items, and work with other team members in a fast-paced environment to provide excellent service.
Helpful, courteous approach to resolving complaints.
High level of energy with solid customer service skills
Work Location:
Abu Dhabi
Job Type: Full-time
Salary: From AED2,500.00 per month
Ability to commute/relocate:
Abu Dhabi: Reliably commute or willing to relocate with an employer-provided relocation package (Required)
Experience:
Cashier/Cash Handling: 1 year (Preferred)
Customer Service: 1 year (Preferred)
Shift availability:
Day Shift (Preferred)
Night Shift (Preferred)