Job Description
Senior Kitchen Production | Retail | IKEA Abu Dhabi
Overview of the role
To assist the Food & Beverages Manager in the execution of the IKEA FOOD Service Concept in the IKEA Restaurant & Café, IKEA Bistro, IKEA Swedish Food Market and IKEA co-worker restaurant by ensuring that the daily operations of the kitchen and production area is supervised and directed at the highest standard way to strengthen the IKEA store's position as the best home furnishing store in the local market.
Customers:
To ensure our guests are always in focus and strive to make them smile. I meet and serve our guests showing empathy and care. I am willing to listen and support them with an attitude based on the IKEA values.
To lead by example and to be a good ambassador for the IKEA store in all contact with our guests, and to give them a good reason to return again and again.
To always look at our store through the eyes of our customers. to have a daily dialogue with our guests to get continuous feedback about their experiences and to learn more about their needs and wants, to then take action based on their input.
To empower and encourage my team to take immediate action to meet the needs of guests and give input on how to continuously improve our meeting with them.
To know about the services offered in the store and use this knowledge to help guests and ensure the team does the same.
To ensure our guests have a great shopping experience at all times throughout the day.
What you will do
Financial
Monitor and control the food costs, operational costs, productivity, sales mix and recipe cost.
Responsible for the efficient organisation of the business area in relation to financial performance i.e. gross profit, costs, hours planning, productivity levels, absence management and holiday planning to agreed service levels.
Operational
Ensure efficient operations of the IKEA Restaurant & Café department with special attention to the preparation and serving of food that enhances both the customer and co-workers dining experience.
Oversee the inventory and stock levels across the Food & Beverages department from purchasing, ordering and stock rotation (FIFO).
Implement, develop and monitors the food safety and hygiene standards and regulations to ensure a safe working environment for both the customers and co-workers in accordance with the HACCP standards as well as the local health and safety regulations standards.
Execute action plans for the kitchen and production area to support the business plan/goals, sales/gross profit objectives.
Equipment Maintenance and documentation.
Together with the Food & Beverages Manager and other team members, secure to achieve the IF&B standard set in the operational /commercial growth review documents.
Use relevant KPI's and the commercial input to identify business potentials and to steer their business.
Manage the full food product range according to the IKEA Concept.
Work with a relevant and attractive range offer based on the information on the local market.
Actively exceed customer expectations the IKEA Way.
Confidently work with the food handling process.
Create and implement an efficient production plan to secure the agreed profitability.
Understanding and execution of the logistics processes from ordering to storage.
Transfer their know-how to grow their business and people.
To ensure that the operations of all IKEA Food areas in the IKEA Store operate in accordance with IKEA Quality and Food Safety requirements and other relevant legislation (list relevant legislations applicable by country). To promote a "safety first" culture where co-workers are encouraged to raise and discuss concerns and solutions. To also co-operate with external service providers and authorities when needed.
To adjust and implement the IKEA HACCP plan to secure the store's requirements and also ensure the HACCP routines are known and followed in the daily work.
To ensure that all food incidents, or potential incidents, are reported through CASY.
To act in accordance with the IKEA Sustainability Direction and work with team to take actions that contribute to sustainability, such as waste management.
To ensure that the IKEA co-worker restaurant food range is appealing, nutritious and based on our guests' needs and wants, and make use of the synergies created between the co-worker and customer restaurant.
To strive towards accurate sales forecasts for the area to enable proper supply planning, ordering, efficient goods handling and stock control.
Ensure daily work routines are in place, e.g. goods flow, stock control, purchasing, ordering, production and waste management.
To secure optimal productivity by ensuring a staff planning process aiming for the right number of competent co-workers, at the right times, in the right places to meet guests' needs.
Ensure efficiency and guest in focus in the serving line by setting up the serving line with flexibility based on peak and non-peak periods, in conjunction with the Commercial direction. To ensure the proper production levels in order to ensure freshness, maximise sales and minimise waste.
To also work proactively to avoid bottlenecks and constantly improve guest satisfaction and also ensure the appropriate speed of service in the serving line by following IKEA Food routines, such as walk-the-plate and mechanical sales techniques.
To ensure the efficient maintenance of the area, securing it is clean, organised, attractive and inviting to provide a positive guest experience.
Ensure to have proper product sheets and cost calculations (StorePoint database). To take an active role in the IKEA Food management team and work cross-functionally utilising the competence of colleagues in other parts of the store as well as other IKEA stores in my country. To encourage co-workers to do the same to develop and share good ideas and implement best-practice solutions to use the full potential of the IKEA Concept, tools, manuals, guidelines and other best practices.
Commercial
Responsibility of coordinating the area of food safety in the store.
Develop and manage the HACCP system.
Ensure that IKEA Food Safety programs are implemented and followed in the store. .
Make random and unannounced food safety checks in the store.
Ensure that all IKEA FOOD co-workers are participating in IKEA Food Safety e-learning and other food safety training initiatives.
Organize planned and random microbiological and other product analyses for the store
Build relationships with relevant national and local authorities, auditors and suppliers.
Be well updated on current and upcoming national legislation on food safety.
Ensure that all IKEA FOOD co-workers are familiar with CASY (incident reporting).
Ensure that the IKEA FOOD Team knows how to act if an incident occurs through the Emergency Management Team.
Initiate and follow up of investigations caused by incidents concerning national and international range.
Together with colleagues and Food manager to contribute actively in the development and implementation of a clear IKEA Food action plan for the store using the store business plan and country business plan. These are supported by input from Growing IKEA together and the IKEA Food Direction & Strategy. To also develop and
execute an annual action plan for the area based on agreed goals.
To actively implement the range matrix (global and national) by securing quality and availability.
To serve high-volume dishes that suit the taste of the many people on the local market.
To secure that we prepare all food in line with the product sheet and secure the quality served at all times.
To actively use the product sheets to train co-workers and also ensure all co-workers taste and learn about new products before they are launched.
To secure an irresistible food offer by ensuring we give customers an appealing range presentation.
To be passionate about the products and actively learn about their content, origins, preparation and other benefits. To share this knowledge with guests and colleagues.
To ensure that the team and you know our top-selling products, 3 Aces and 1 King, and that they are available and clearly communicated and displayed at all times. To promote alternative products when these are unavailable.
To utilise everyday commercial opportunities to grow sales and profitability according to the goals in your area. To work with the Functional Commercial Review and other appropriate tools to do so.
During unexpectedly quiet times to initiate commercial activities that attract store visitors and increase the take-up rate, or take other actions to secure productivity.
To co-operate with the Food Manager to enhance Swedishness and the link between the IKEA Restaurant & Café and the Swedish Food Market when appropriate.
To have relevant knowledge of the competition on the market and use this information to initiate immediate action as needed, e.g. secure a substantial price distance.
To create awareness of IKEA Food as the most important in-store marketing tool for maximising the IKEA store's sales potential.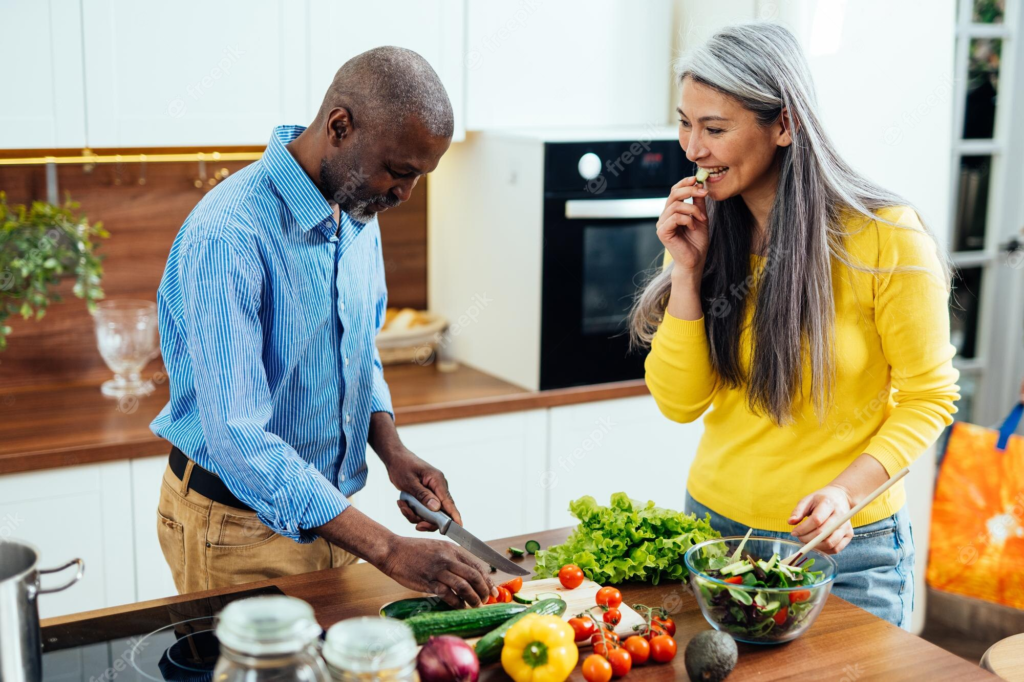 People Management & Development
In conjunction with the HRBP and Food & Beverages Manager select, recruit, train, develop, coach, mentor and inspire co-workers in accordance with the IKEA values.
Train the co-workers on how to work with the Swedish and local range as per recipes.
Train the co-workers in food preparation to ensure the highest standards of range presentation.
To be a passionate leader who can bring business and people together. To be inspired by the IKEA core leadership capabilities and strive to continuously develop as a leader.
In co-operation with the Human Resources (HR) department to recruit the team based on the IKEA values.
To be committed to the development of the team and secure their training to ensure all co-workers understand the IKEA Concept and other key guidelines, and how they have an impact on their specific roles.
To empower, support and coach co-workers on the job to help them perform better and grow.
To actively develop successors to ensure they meet the succession needs of the IKEA store.
To work actively to create an environment where the IKEA culture is a strong and living reality, and diversity is valued, to ensure the IKEA store is regarded as a great place to work.
Ensure to have a simple and straightforward internal communication and information flow, and secure that key information is understood by all IKEA Food co-workers.
Skills
Required skills to be successful
A passionate leader inspired by the IKEA core leadership capabilities who strives to continuously develop as a leader.
Decision-making and problem-solving abilities with the drive to make things happen.
Tactical thinker.
Understand KPIs and how to affect their results through departmental actions.
Ability to organise, plan and prioritise.
Takes responsibility and can delegate when necessary.
Communicates well with others and is able to influence and co-operate with different functions.
Ability to see how IKEA Food contributes to increasing the overall performance of an IKEA store.
Must have excellent communication and interpersonal skills
What equips you for the role
3-5 years kitchen production supervisory/management experience preferably in a high volume business setting
Experience of managing/leading and developing a team
Preferably gained in a retail/food service environment
Advanced knowledge of food production and food safety
Experience of creating and executing action plans
Experience of creating long-term action plans and setting budgets and following up on goals. Proven
Job Details
Job Location Abu Dhabi, United Arab Emirates Company Industry Accounting Company Type Employer (Private Sector)Job Role Hospitality and Tourism Employment Type Full Time Employee Monthly Salary Range Unspecified Number of Vacancies1