Job Description
Position Title: Executive Chef
Employment Type: Full Time
Salary: up to 15K AED all-inclusive depending on experience and qualifications
Job Location: Sharjah, UAE
About the Client:
The first performing arts academy in the MENA region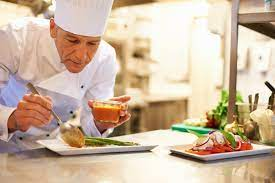 Job Description:
§ Develop menus that are unique and appropriate to the cuisine.
§ Monitoring inventory and purchasing food supplies from approved vendors.
§ Hiring, training, and supervising kitchen staff for meal preparation, creation, plating, and delivery.
§ Introducing new culinary techniques and modifying menus to meet quality standards and student needs.
§ Implementing hygiene policies, inspecting equipment for cleanliness, and complying with nutrition and sanitation regulations and safety standards.
Skills
Qualifications:
§ 45 years old and below
§ Bachelor's degree or relevant certification is a plus
§ At least 5 years of experience working in an international cuisine
§ Experience from an educational institution or from a hotel restaurant as a chef is a plus
§ Knowledge in various software programs (cost management software, POS) is a plus
Job Details
Job LocationDubai, United Arab EmiratesCompany IndustryRecruitment & Employee Placement AgencyCompany TypeRecruitment AgencyJob RoleHospitality and TourismEmployment TypeFull Time EmployeeMonthly Salary RangeUnspecifiedNumber of Vacancies1